Playbooks, Drills, and Equipment

Subscribe Now and Save 10% Off Instantly
Playbooks, Drills, and Equipment
Subscribe Now and Save 10% Off Instantly
Subscribe
Which PLaybook is RIght for You?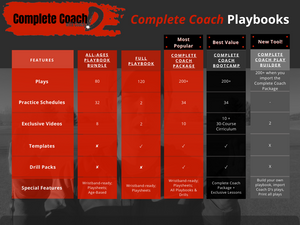 Flag Football Plays
Do you have a passion for flag football coaching but find yourself lacking the time or creativity to create new and exciting flag football plays? Then you have come to the right place. With the help of Coach D, you will never fall short. From flag football drill packs, plays, practice schedules, templates, we have you covered so you can coach your players to become the best that they can be.

Read More
Become the Best Coach You Can be With Flag Football Plays
With a variety of packages, you are sure to find a flag football playbook that you love in our range. Browse our basic bundles that provide you with a minimum of 80 plays or choose a complete package that includes over 200 plays alongside 32 practices, 35 drill packs, templates and other special features. We have 5v5, 6v6, unstoppable 7 on 7 flag football plays, and a flag football coaching tips. Whatever you need to become the complete coach, we can provide. We even have a lot of high quality flag football equipment.
A Comprehensive Flag Football Play is Guaranteed with Coach D
When it comes to flag football plays, Coach D is at the forefront of the industry and with our comprehensive playbooks, you too can crush it as a complete coach. Find youth flag football plays that are catered to all ages and all abilities, providing you with the resources and tools to coach with confidence which can make an impact to your players. From Pre-K and 1st Grade through to 8th Grade, we have you covered.
Purchase one of our comprehensive packages and benefit from practice schedules, wristband-ready printable play sheets, and much more! We even offer Coach D's Complete Coach Bootcamp where you can learn from Coach D himself on the field in exclusive videos. All packages also included a Meet & Greet Schedule so you can start your season with confidence.
No question is too big or too small for Coach D. Always on hand to answer any questions and provide extra guidance, you can achieve your fullest potential as a coach. A fast, reliable and personal response is guaranteed each and every time.
Quality Kids Flag Football Plays, No Matter Your Experience
Not everyone is an expert coach when they first walk out onto the field. But with our kids flag football plays, you don't need to be. We provide you with all of the tools that you need to crush it as a complete coach and teach your team the skills that they need to excel at flag football.
As a flag football coach, it is your responsibility to give your team your all in every practice, as the experience you provide will influence whether your players continue participating in football as they grow up. Our kids flag football plays packages provide you with everything you need to create a fun and safe learning environment for your whole team. The skills that your players learn on the field are life skills that will have a lasting impact on the game and provide an easy transition no matter what path they pursue
Flag Football Plays – The Key to Player Improvement
Top coaches in many sports agree that the way to develop youngsters has to be in a way that allows the student to sense they are getting better. If a training exercise or routine fails to give this uplifting feeling, then you might as well not do it. This is one of the real benefits of flag football play. The kids simply love the format and within short periods of time they start to get a buzz from the sensation of simply playing that little bit better. Children and youths just love the plays for flag football. It is an immersive experience in that they are always involved with the group and feel they are contributing to the team effort. We all know that if children begin to feel left out or unable to play a valid part, they are most likely to give up. As a coach of children and youths, this is always a hard situation to swallow.
Look How Popular Our Flag Football Playbook Packages Are – You Need to Get Involved
Youth flag football plays are amongst our most popular. Youngsters in their teens and even some a little younger, see amazing improvements in their overall personal play and the quality of their team play.
Start your coaching future with Coach D's flag football plays. They are a great way to motivate and improve your students. At the moment, Coach D is offering a four-instalment deal for purchases over $50. It's done through ShopPay and spreading the cost like this will give you a chance to get your subscriptions in to pay for the package.
There are lots of guides and tools available and the more in-depth packages, include lots of bonuses and free inclusions. There's also a 30-day money-back guarantee on all purchases, making the investment risk-free if it doesn't work out for you.
The time to develop your coaching skills is now. Browse through the flag football playbook and study the packages. You could get in touch to discuss the best package for you and your team. Become the best coach that you can be with Coach D.
Order your package today, simply check the box at checkout if you want to use ShopPay and your package will soon be making its way to you. Within days, you'll be moving your team on to a new level of enjoyment and skill.
Advantages of Starting Flag Football Plays for 7 to 8-Year-Olds
A lot of times, coaches want to go their own way and find new and unconventional ways to win. Every coach wants their team to be a standout in the game. But sometimes, life gets unusually busy, and without new ideas, the kids start sinking into the same routines and plays. At that point, flag football can start to feel more like a chore than something exciting. And trust us when we say: The moment something stops being exciting is the moment kids drop it!
With a book of flag football plays for 7-8 year-olds, you can still add your own style to your coaching while also having a solid foundation to fall back on. Here are some of the advantages:
You can see what's already been tried before and worked well.
You can discover your own preferred coaching style through the plays and advice in our playbooks; once you find your style, both you and the kids are having more fun, and you'll see the team functioning better together as a whole.
A playbook can help you place each player where they're strongest. That's not just good for the team; kids love to find their talents and develop them, and it can be great for their self-esteem and their eventual commitment towards long-term goals.
Kids love to be involved and learn things about the activities they're in. You can use the playbook to teach your team a bit about the strategic side of flag football.
Of course, our flag football playbook is not only limited for 7 - 8 years old kids. Our book is designed for anyone that wants to learn flag football.
Which Flag Football Plays Package Will You Select?
The time to optimize your coaching skills is now. Browse our flag football playbook packages or get in touch to discuss the best package for you. Become the best coach that you can be with Coach D.
Unleash the Power of Fun Flag Football Coaching with Expert Tips, Playbooks, and Engaging Drills
Flag football is an increasingly popular sport that's tons of fun. Rather than the physical tackling of traditional football, flag football emphasizes the qualities of strategy, teamwork, agility and speed. That's what makes it fun to play...and to coach!
A good coach will help their players develop sportsmanship and an appreciation for the game. As a flag football coach myself, I can tell you that it's an incredible experience that you'll want to tell everyone about.
But let's say that you've signed up to coach, and you haven't found your footing yet. What are you going to do?
It's true... finding fun flag football plays for beginners can be tricky...but you can trust Coach D. Even coaching experienced or semi-experienced players can be stressful - finding drills and practice schedules that keep players engaged, constantly improving their skills and having fun. However, I've been in that position before and used my experiences to create online resources, such as my popular YouTube channel and playbooks.
My tutorials have been trusted by thousands of flag football coaches who have used my top tips and playbooks to create incredible coaching sessions that have the kids clamoring for more!
So you can say goodbye to having them run up and down the field...unlock the power of my coaching strategies today!
Elevate Your Football Practices with Fun Flag Football Drills
Unfortunately, many coaches just don't have the time to craft their own sessions. Creating exciting sessions that the kids will love takes time and creativity. Rather than rack your brains for good flag football plays, they're all compiled in my playbooks, which I'm constantly improving and updating.
What's also great about my flag football playbook for 7 on 7 is that they include minute-by-minute schedules to ensure that your sessions are on track and balance each of the skills while keeping the players interacting and having fun. So while you could collect a few plays online for a complete and well-rounded coaching session, it's important to opt for someone who's spent years on the field. When my wife signed me up five years ago to coach, I did my best with the limited resources available before collecting what was available online and adding my experiences along the way. The kids loved it and I received floods of good feedback. Since then, I've streamlined all my best coaching resources into handy bundles.
My bundles will supply you with all the insight you need to crush coaching and take your flag football sessions to the next level. Whether you're looking for flag football plays for beginners or semi-experienced teams, there's everything included, such as plays, practice schedules, exclusive videos (that you can't find on YouTube) and drill schedules.
Get Started with Coach D's Best Football Playbook
If you have a question, don't hesitate to reach out! I love hearing about people's thoughts and experiences and will read your comment or message. I'm here to ensure that you have a positive customer experience and, of course, have a fantastic flag football coaching session.
Read Less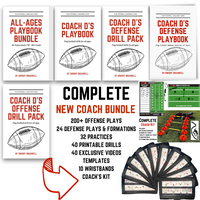 Coach D's NEW COACH BUNDLE *Perfect for FIRST TIME Coaches*
I put it ALL together in one bundle for new coaches. Walk out on the field with confidence. You'll get 200+ offense plays, 24 defense plays with explanations and recommendations, 40 drills, 32 practices, 40+ Exclusive videos in the Bootcamp, templates, PLUS 10 wristbands and the Coach's Kit (Clipboard, 12 cones, agility ladder, whistle, conditioning drills). Offense, defense, wristbands, and equipment - that's a COMPLETE BUNDLE for New Coaches!! Grab it now!
VIEW NOW
Coach D's PLUG & PLAY Bundle *Get Plays & Wristbands*
Everything you need to become the COMPLETE COACH + 10 Wristbands! Includes ALL playbooks and ALL drill packs.  Get over 200 plays (80+ age based plays broken out by age group), 35 drills, 32 practice schedules (age-based), playsheets, wristband inserts, templates, exclusive videos, and more!  This is the complete package for any coach!! Includes 10 wristbands and wristband inserts so you can walk on the field and be 100% ready for game-day!
VIEW NOW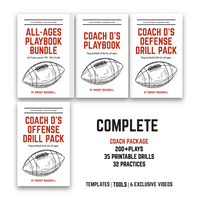 Coach D's COMPLETE COACH Package *Most Popular*
Everything you need to become the COMPLETE COACH! Includes ALL playbooks and ALL drill packs.  Get over 200 plays (80+ age based plays broken out by age group), 35 drills, 32 practice schedules (age-based), playsheets, wristband inserts, templates, exclusive videos, and more!  This is the complete package for any coach!! Wristbands not included.
View Now
Coach D's COMPLETE COACH Play Bundles *10 NEW PLAY BUNDLES* Situational Plays to Help You Win More Games
10-play bundles for every game situation. Grab one or ALL 10 and save! Available bundles include:
AGAINST THE BLITZ PLAYS (10 Plays)
ALL-TIME BEST PLAYS (10 Plays)
BEST PASS PLAYS (10 Plays)
BEST RUN PLAYS (10 Plays)
BRAND NEW PLAYS (10 Plays)
DEEP SHOT PLAYS (10 Plays)
MOTION PLAYS (10 Plays)
RED ZONE PLAYS (10 Plays)
RPO PLAYS (Run Pass Option) (10 Plays)
TRICK PLAYS (10 Plays) 
Get all 10 with the ALL 10 PLAY BUNDLE PACK (100 Plays)
VIEW NOW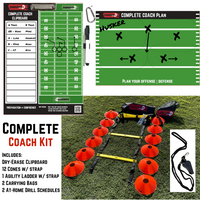 COMPLETE COACH KIT
Includes:
2-Sided Coach's Dry-Erase Clipboard
12 Cones w/ strap
1 Agility Ladder w/ strap
2 Carrying Bags
2 At-Home Drill Schedules
Coach's whistle
Buy Now
The ULTIMATE Complete Coach Bundle *GET IT ALL*
Finally, one bundle that has EVERYTHING I offer. ALL plays, ALL formations, ALL drills, ALL practices, ALL videos, ALL equipment, PLUS 1 FREE month of my Play Builder platform! Get over 300 plays (80+ age based plays broken out by age group, 100 situational plays), 24 Defense formations, 40 drills, 32 practice schedules (age-based), templates, exclusive videos, Coach's Bootcamp, 1 month of the Play Builder and more! This is the complete bundle for any coach looking for the EDGE!!
View Now
Choose the Playbook that is best for your Team
Meet Coach D
I'm a youth flag football consultant, motivational speaker, high-performance coach, & startup training consultant.
My goal is to help you CRUSH it as a coach!
Subscribe to my YouTube channel today and get alerted when I post new flag football content. 
Like the Flag Football with Coach D Facebook Page for more flag football content.